Archive for the 'Uncategorized' Category
Celebrating 10 Years of Female Power
Formed 2000 * Incorporated June 18th 2002 * Tax Exempt 501C-3 2004
GirlSpirit~WomenSong Inc. (GSWS) enhances the mind, spirit and body image of pre-teen, teenaged girls & women, by inspiring healthy behaviors & attitudes of self-awareness, self-respect, self determination and self reliance.  Our concentration is Leadership, Life skills, Artistic Expression, Social Etiquette and Social Responsibility, encouraging independence, spiritual wellness and the elaboration of basic human competencies for a girl's and a woman's healthy growth and development. GSWS also hosts special events that support healthy communication and relationships with men and boys.
Upcoming Events…
Bring Me Your Daughters Conference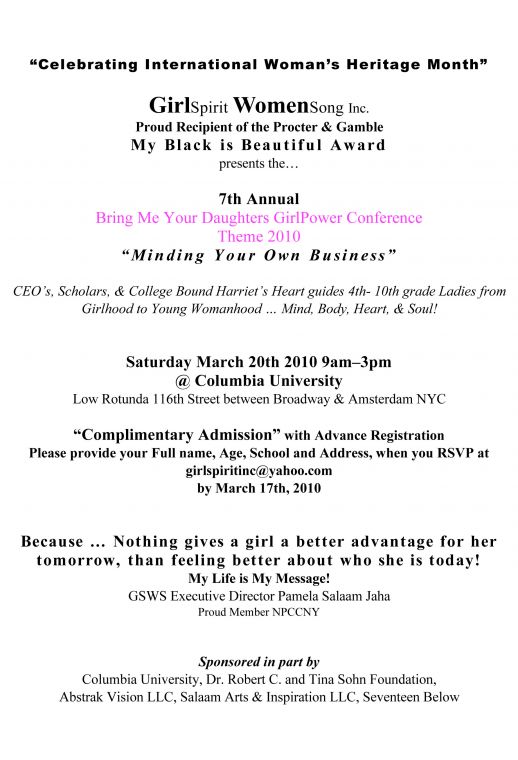 Past Endeavor…
19 Days for 19 Hearts
An Open Letter to All Beautiful People, Sincerely Ready for CHANGE!
By Pamela Salaam Jaha, Founder/Executive Director GirlSpirit WomenSong Inc.
"
To hope for a better world, we have to be the Change we want to see in the world.
"
Ghandi
On the morning of Friday July 31st 2009, the world as we know it will forever be changed!  Not an immediate or obvious change, a subtle change that will morph like magic, just as gently as it began, 4 years ago, that autumn day in 2005.
It was my 43rd birthday.  I was the same age Rosa Parks was, when she had the courage to "stand up by sitting down" on the bus.  I admired that quiet influence of Mrs. Parks.  So, as gently as the flutter of a butterfly's wings, I publicly announced my surrogate adoption of 19 high school bound, teenaged African American, Latina and Caribbean girls, whom we lovingly call, Harriet's Heart.  Harriet's Heart is a spirited four year undertaking, honoring the unparalleled legacy of one of my mentors/heroines, Harriet Tubman.  The 19 especially selected young ladies, each represent Queen Tubman's 19 courageous journeys on the Underground Railroad.  Over the 4 years, the Hearts were consciously and attentively guided. We partnered with parents and families to help our daughters' blossom from girlhood to young womanhood, via self discovery, self reliance, leadership principles, team building, core values, social responsibility, social etiquette, life skills readiness, spiritual think tanks, emotional wellness, academic distinction and the successful entry into the world of community consciousness! The 4 Year Journey … Sept 1st 2005 - July 31st 2009!
When we talk about change, we have to admit that it helps when we all are involved.  We need a purpose, a reason… a cause. My primary enterprise is Salaam Arts & Inspiration LLC. GSWS, GirlSpririt WomenSong Inc., a non-profit 501C3 charity, is the social responsibility arm of SAI. Since 2003, every first Saturday of March, in tribute to Women's History Month, GSWS produces the Bring Me Your Daughters Conference, stimulating a Brains + Beauty = A Brighter Tomorrow concept, for 200 young women, across the tri-state area!  In 2005, we launched Harriet's Heart, pioneering the Power of Passionate Mentoring. In 2007, we were one of the 1st recipients of the Proctor & Gamble, My Black Is Beautiful Award and in July 2008, Black Enterprise magazine featured our enterprising story, to motivate and inspire you… to support our cause!
In 2008, I Aunty Salaam, as my Hearts affectionately refer to me, took an exciting leap and made the major investment of editing and publishing a book that honored the Tubman like courage, the mental growth and the emotional evolution of the Hearts.  Our publication of Confessions of A Teenager (C.O.A.T.) kicked off a global Healing through Reading Campaign, whose intention is not only to enhance the quality of life for teens, families, clergy and educators worldwide. This strategic literary work was also my clever creative genius way of introducing and preparing Harriet's Heart for Entrepreneurship through Social Responsibility.  As college bound students and newly published teen authors, the Heart's are learning the intricacies of owning and operating a business, via vending, book fairs, town halls, school assemblies and speaking engagements, in what Aunty Salaam calls, "The Victory Year"!  In June 2009, we hosted a Red Carpet Film Premier of our documentary Heart Road, produced and directed by Abstrak Vision, exemplifying the compelling "No Excuses… Only Victories" journey of our 19 divinely designed, brainy and beautiful, future leading ladies of the world! Overall, from '05-'09, we groomed the Hearts to become captivating public speakers, each focused on her own life platform, designing conscious young women and involved civic minded citizens.
Now, GirlSpirit WomenSong Inc.'s Harriet's Heart, is onto the freedom of inspired action through collegiate study and entrepreneurial exploration!  We are blessed and proud to say that this summer, every single Heart, Americas newest leading ladies, every single one of them, graduating a better student and human being, than when they began, are college bound to Syracuse, Oswego, Howard, CUNY, Hunter, IONA, Norfolk, Virginia State, PACE, Barry, Dickinson and other reputable colleges and universities! Further, we are excited about the promise of these pioneering Hearts to "give thanks by giving back" by each mentoring 19 Hearts of their own!
July 10th – July 29th, "19 Days for 19 Hearts"
is our last stance campaign, before the Hearts leave to college, to garner financial support, from beautiful people who care… like you!
With my own full heart, I promise, that when you look at Harriet's Heart, when you read about Harriet's Heart or when you meet Harriet's Heart, I promise that when you begin to say "young people today", your sentence will be completed with a warm giggle and a smile of pride!
As Queen Harriet Tubman said, "I freed a thousand slaves. I could have freed a thousand more if only they knew they were slaves." I believe it is the responsibility of all of us to lead our children, our families and our communities to social leadership, economic strength, political promise and academic excellence! In honor of Rosa Parks and Harriet Tubman, forward thinking journeys must continue.  I know that ordinary people can make a change.  Such is when and how we become Extra-Ordinary".
I am the blessed and proud surrogate mother/aunty of 19 bright and beautiful young women, who can transition from blue jeans to black tie in one hour! They are ready, willing and able to be contributors to positive progressive change in both local and global communities. I, along with my Board President Surayya Barbee, our friends and families, beseech you to donate these last days, in support of their forthcoming college journeys.
On the morning of Friday July 31st 2009, on 125th Street in Harlem, the world as we know it will forever be changed!  Not an immediate or obvious change, yet, a subtle change that will morph like magic, just as gently as it began, 4 years ago, that autumn day in 2005.  Yes, an amazing task has been done! We are examples of inspired action!  We are in the process of creating a world full of empowered young women, like Michelle Obama! As the Harriet's Heart commencement ceremony begins, love will fill the room. The sun will penetrate. We will appear as yellow roses. A 4 year love of a few, has blossomed into an opportunity for us all to grow 19 into 361 into 6,859 into 130,321, into 2 million!  Being there, when our children, our most prized possession need us most… is the greatest love of all. This ending, is truly, the beginning.
P.S. We Need You and We Love You Too!
Heart Road Film & Discussion with Harriet's Heart.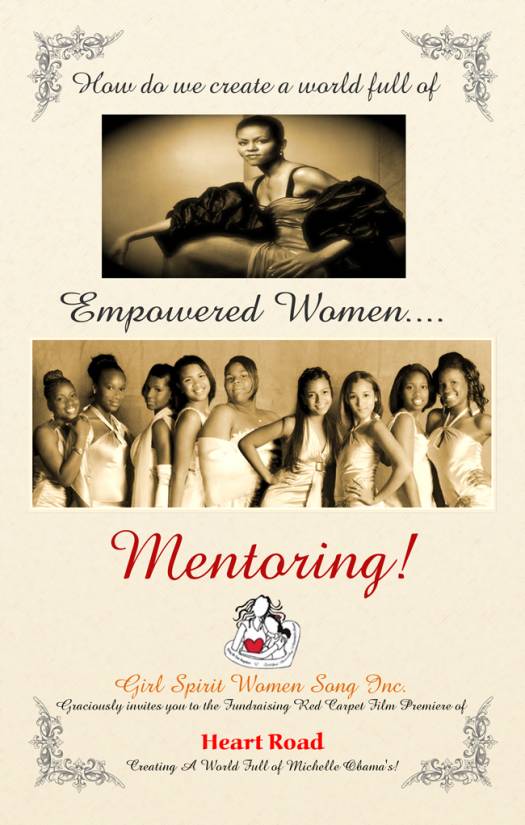 Click on the Harriets Heart page for more info…
Harriets Heart Commencement Ceremony, July 2009.