Leadership & Literacy
Published by SAI Pocket Books with Power Truths, the extra blessing of this book is it is Co~Authored by Pamela Salaam Jaha, Founder of GirlSpirit WomenSong Inc. the Social Responsibilty arm of SAI and 11 of the 19 teen ladies of  Harriet's Heart, the young women Salaam surrogately adopted in 2005. The courageous literary teen authors, ranged in age from 14~16 at publication in 2008.  Harriet's Heart and Aunty Salaam, as The Hearts affectionately address her, also apply the book and video as inspirational teaching tools for Teachers Professional Development, Parent Workshops, individual groups, schools, universities and/or like minded people who desire growing relationships with teens OR their very own Inner Child.
COAT … "Unresolved issues fro teenage years hold good producing adults back from becoming greater producing adults!"
SAI has created an "Inspirational Wave" that has taken this country's education system by storm … A Brainstorm!
Confessions of A Teenager… C.O.A.T is a New and Captivating SAI "Teaching Tool" that inspires "Healing Through Reading".

We are available for book signings, lectures, conferences, retreats and book parties. Make your Power Purchase below.
Contact Ms. Salaam at WisdomSalaam@gmail.com
Confessions of A Teenager is a "Pocket Book with Power Truths" that is applied to foster and generate:
· Conversation/Dialogue
·         Mediation and Conflict Resolution
·         Violence and Substance Abuse Prevention & Intervention
·         Interpersonal Communications
·         Teacher/Student Communication
·         Bridging the Generation Gap
·         Parent-Child-Family Relationships/Dynamics
·         Peer to Peer Mentoring
·         Faith & Courage
·         Confidence Building & Self Awareness
·         Choices & Consequences
·         Trust & Truth Telling
·         Goal Setting & Action Plans
·         The Hurt to Start Healing!
Ready and Waiting to Join Your Library: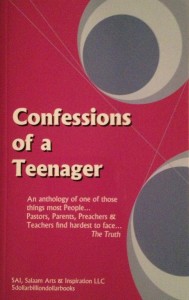 * Confessions of A Teenager:
Confessions of A Teenager is a Teaching Tool that is co-authored by Ms. Salaam (Mentor) and eleven (11) of her 14 year young students/Mentees. Released August 11th 2008  C.O.A.T features true life experiences of 11 teenagers, whose Boundless Courage empowered them to take a courageous look at themselves, with the intention of finding the courage to face their own fears and insecurities with a whole true heart.  That is why Aunty Salaam calls them her Hearts… Her Brave Harriet Tubman Hearts.

*Power Words:  Stix & Stonz May Break Your Bones yet Words Can Heal Your Life!
Power Words is a "Spin UP" from our previously published "The Business of Me!" Stix & Stonz is a forward thinking, solution driven collection of affirmations and intellectual self communication, to help one live a more focused, purpose driven, empowered and authentic life! Power Words helps one to Enhance their Human Potential! It applies "The Art of Inquiry" inspiring one to ask themselves pertinent questions of self reflection. "Did you ever stop to think, how different your life would be, if you said NO instead of Yes? Did you ever stop to think, how different your life would be, if you said YES instead of NO? Further, this book discusses Cellular Intellect, Mental Immunity and most importantly, share valuable life learning tools …
"When You Can Change Your Mind, You Can Change Your Life!
These Pocket Books are suitable for;
Middle School
High School
College
Parents / Families
Educators
Teams
One on Ones
Workshops
Assemblies
Residencies
Book Parties
Lectures
Fundraisers
Think Tanks